Details
Meet Stella.
The adapter that allows you to wirelessly control your telescope. Control your telescope at a distance without having to worry about your handbox cord length. Creating its own Wi-Fi network or joining other Wi-Fi networks, the Stella adapter communicates and aids in controlling your scope to making observing a breeze!
When paired with our Android and iOS app, StellaAccess, you now have a graphical interface for navigating the night sky. With this new adapter, gone are the days of handbox limitations; now you have a full featured planetarium at your fingertips that works in conjunction with your telescope!

Designed for Meade computer-controlled GoTo telescopes, Stella uses the Wi-Fi capabilities built into your iOS or Android device to point your telescope in the sky.

Many people get lost in the sea of stars, unsure of where to look. Now with Stella and StellaAccess, you can leave your woes behind and explore the skies with ease. See a deep-sky object on StellaAccess that you want to view? With a push of a button, your telescope will point to it. Stella gives you control of your telescope at a distance; keep the handbox at your telescope, and find celestial objects wirelessly.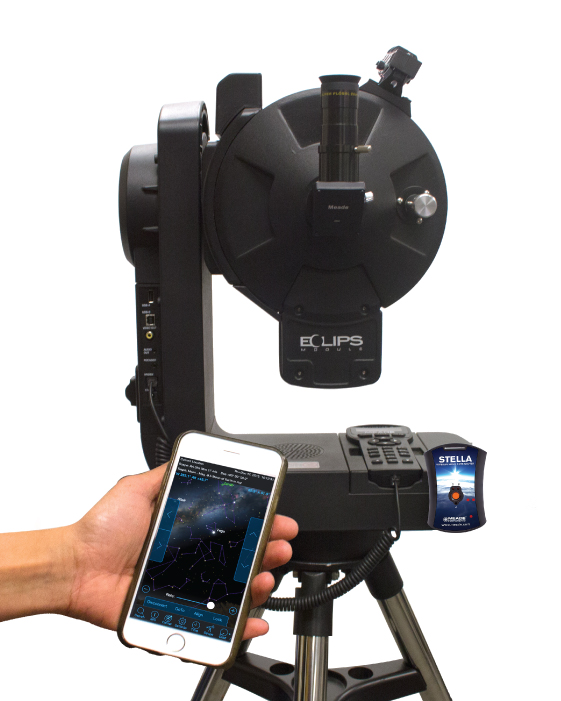 Does Stella require internet access to work?
Don't worry, you don't need internet for Stella to work properly!  Unlike Bluetooth, Stella requires no pairing and no special drivers. Supporting a DHCP server or client, Stella can enable your telescope to be remotely controlled.
All you need is a Wi-Fi enabled device like an iPhone, iPad, iPod Touch or Android device.
How does Stella work?
Stella creates its own 802.11 wireless network. By default, this is an open wireless network called "Stella", but you can rename and secure as you wish.

You join this network from any of your qualified devices and just like that... you're ready to use Stella! As long as your device gets its IP address by DHCP, no additional network configuration is required.
Battery Life 
Stella uses a rechargeable Lithium-Ion battery. It has a typical battery life of 4-8 hours under continuous use and offers a "power-saving mode" to aid in increased battery life.  Stella can also be powered from an external source, like USB ports or wall socket. Cables for both AC power (120V, 60Hz) and USB to micro-USB are included. 

COMPATIBLE TELESCOPES
Stella can wirelessly enable almost any telescope with a standard USB or RS-232 serial interface. Models that have been tested and are known to work with Stella include:
Meade LX200 Classic and GPS

Meade LX400 ACF

Meade LX600 / 850

Meade LS / LT

Meade ETX  (when equipped with #497 or AudioStar Controller)

Meade LXD 55 / 75 / 650 / 750

Meade LX 80 / 90

Meade Magellan I

Meade Magellan II
Some Meade ETX models (60/80) ship with the Autostar #494 controller. To make Stella work with these scopes, you need to replace the #494 Autostar controller (which does not have a serial port) with the AudioStar (which does). Contact Meade to upgrade your controller.

OTHER COMPATIBLE TELESCOPES*
Celestron NexStar 5i / 8i / GPS / SLT / SE / Advanced GT

Celestron AVX / CGE / CGEM / CPC series

SkyWatcher SynScan

Orion Sirius / Atlas / SkyView Pro / SkyQuest XTg / StarSeeker / HDX

iOptron SmartStar / MiniTower

iOptron iEQ45 with 8406 controller

iOptron 8407 / 8408 contollers

Astro-Physics GTO

Losmandy Gemini

Vixen SkySensor 2000

Vixen StarBook / Sphinx

Sky Commander

Losmandy DSC

StellarCAT ServoCAT

Starmaster Sky Tracker

SiTech Controller

Takahashi Temma 2

Bisque Paramount + TheSkyX

Tangent Instruments BBox Encoder System (and compatible)

Celestron AstroMaster

JMI NGC Max

Lumicon Sky Vector

Orion Sky Wizard / IntelliScope

Takahashi Super Navigator
*Due to continuous firmware updates by individual manufacturers, we cannot guarantee compatibility with non-Meade telescopes.
How do I connect the adapter to StellaAccess mobile application?
To use StellaAccess as a telescope controller, your telescope must be connected to the Stella Wi-Fi adapter and your mobile device must be connected to the Stella Wi-Fi network. 
Your telescope must complete any necessary alignment procedures before connecting to StellaAccess. Reference your telescope manual for detains on your scope's alignment process. Before tapping the "Connect" button, review the "Settings" page to ensure you have the correct settings. Under "Telescope", choose "Setup" and be sure you have the following settings:

- Select the telescope in use under Scope Type
- Select the mount in use under Mount Type
- Stella Name set to "Stella" or "10.0.0.1"
- Port Number set to "4030"

Once you have the correct settings in place, you are now ready to connect to your telescope. StellaAccess remembers the telescope's alignment until you quit the app, so you should not have to realign if you disconnect (or are accidently disconnected). Once connected, you can control your telescope with the directional arrows, or use the GoTo feature to point at a selected object.

You can re-align the scope and the software anytime there is a discrepancy between the two with the "Align" feature. This synchronizes the scope to coordinates of the selected object. The bullseye indicated in the sky chart shows where the telescope thinks it is pointing. If that appears incorrect, the scope and the software must be aligned.
To do so:

- Physically center the scope on a real object in the sky.
- Select that object in the sky chart to make it the current target object.
- Tap the Align button.

When you are finished with your session, tap "Disconnect" to end your telescope control session.