Details
ASIAIR is a smart WiFi device that allows you to control all ASI USB 3.0 cameras, ASI Mini series cameras, and an equatorial mount to do plate solving and imaging with your phone or tablet/iPad when connected to ASIAIR via WiFi.
FEATURES
Dual bandwidth WiFi Control 5G & 2.4G  supported. You can switch between 5G & 2.4G depending on your environment. 5G is faster for downloading and not so crowded as 2.4G, but works best over shorter distances without many obstructions, such as walls.  
Independent Guiding & Imaging Standalone guiding & imaging without the need for a PC. Everything is under control with your phone!  
Preview and focus in real time      
Preview: with the help of the WiFi network, ASIAIR can preview images in nearly real-time. 
Debayer: debayer works for colour cameras.
Auto white balance: AWB also works for colour cameras
Focus: zoom a small area to provide max brightness curve and HFD curve - helps user to reach precise focus manually.
Auto & manual histogram stretching: screen stretching is always useful for dark deep sky imaging.
Plate Solving Offline plate solving can be done in a few seconds. 
Choose Object User only needs to open the "Telescope Settings" and click the "Choose Object" button to select the shooting target or make some observing plans. 
Dither Improve your images tremendously, increasing the all-important SNR and removing artifacts. 
SkySafari Bridge The user can use the SkySafari app to control the mount through ASIAIR, choose the target and go. 
Supported cameras ASI USB3.0 cameras, ASI cooled cameras, ASI mini cameras (cannot support ASI120MM/MC cameras).  
USB2.0 PORT
ASIAIR comes with 4 USB 2.0 ports, you can connect up to 4 USB devices and won't need a USB Hub.
POWER SUPPLY
ASIAIR requires 5V@2.5A external power supply, via micro USB port. Normally, ASIAIR consumes only 500ma current, but the peak value would be 2.5A, so please use the power cable that comes with the ASIAIR. Other cables may be too thin and not provide enough power. Also provided is one 12V-5V DC Converter, so that you can connect ASIAIR to the 12V power supply used by most astro devices.
SD CARD AND CARD READER
One 32GB Micro SD card comes with the ASIAIR. OS is running on this SD card, with 25G of space left for the user to store images. The user can use this SD Card Reader to transfer the images to their PC for processing. There is a risk that the SD card may eventually become corrupted, so it is highly recommend that users back up their SD card first when they get the ASIAIR. 

SOFTWARE
  ASIAIR supports both IOS and Android systems.  


ASIAIR App also speaks with the SkySafari apps (SkySafari\SkySafari Plus\SkySafari Pro). You can now plate solve & sync in the ASIAIR app and read the mount's position in SkySafari!  
INTERFACE OF APP
ASI120MM Mini
CAMERA SENSOR
The ASI120MM Mini camera integrates an AR0130CS 1/3″ sensor (4.8 mm x 3.6 mm). It is one of ZWO's new mini cameras. This camera has 1280 x 960 pixels. The pixel size is 3.75 μm x 3.75 μm.  This camera provides 12bit ADC and its QE peak is almost 80%.
ASTROPHOTOGRAPHY PERFORMANCE
The ASI120 mini camera offers very good performance for planetary imaging and guiding. Low read noise, high dynamic range,  AR protective window and much more.
HIGH QE
Absolute QE Curve, estimated Peak Value of almost 80%.
USB2.0PORT & ST4 PORT
USB 2.0 Port: The Mini camera has one USB2.0 type C port. Type C port is very popular in mobile phones, it won't mind positive side/negative side of the adapter.

ST4 Port: Connect mini camera directly to the auto guider port of the mount.
Additional Information
Specifications

ASI120MM Mini

Sensor: 1/3″ CMOS AR0130CS(Mono)
Resolution: 1.2Mega Pixels 1280×960
Pixel Size: 3.75µm
Exposure Range: 64µs-2000s
ROI: Supported
ST4 Guider Port: Yes
Focus Distance to Sensor: 8.5mm
Shutter Type: Rolling Shutter
Protect window: AR coated window
Operating System Compatibility: Mac, Windows, Linux
Interface: USB2.0
Bit rate: 12bit output
Adaptor:1.25″ / M28.5X0.6
Dimension: φ36mm X 61mm
Weight: 60g or 3.1 ounces (without lens)
Working Temperature: -5°C—45°C
Storage Temperature: -20°C—60°C
Working Relative Humidity: 20%—80%
Storage Relative Humidity: 20%—95%
Supported resolution





Binning 1×1:

1280X960@35FPS
1280X720@46FPS
1024X768@54FPS
800X600@90FPS
640X480@118FPS
320X240@224FPS

Binning 2×2:
640X480@35FP





More resolutions can be user defined
ASIAIR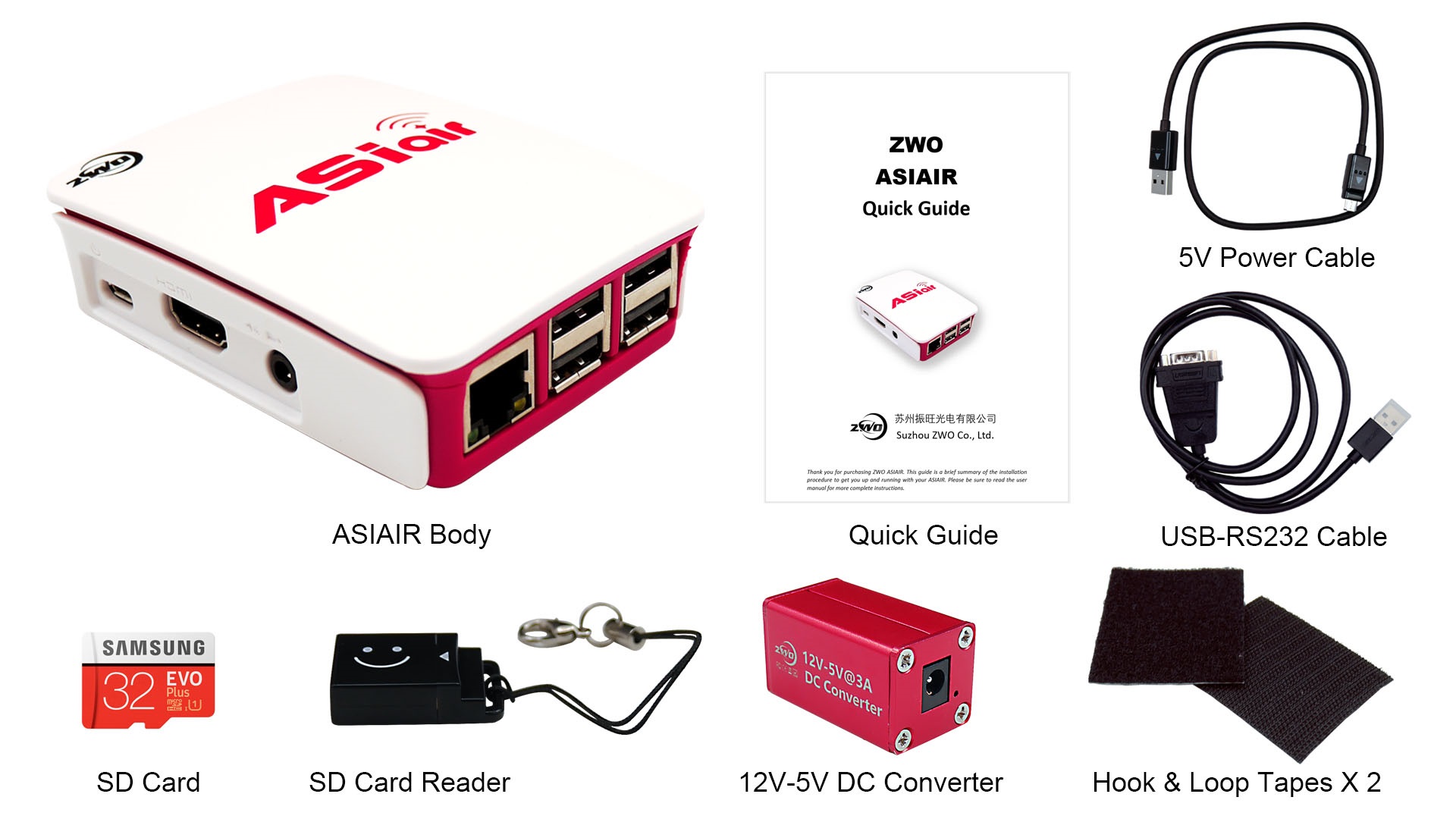 ASI120MM MINI