Details
ASI1600MM Pro Astronomy Camera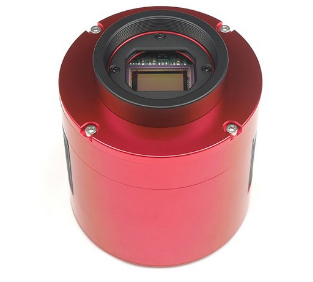 ASI1600 Pro camera includes a 256MB DDR3 memory buffer to help improve data transfer reliability. Additionally, the use of a memory buffer minimizes amp-glow, which is caused by the slow transfer speeds when the camera is used with a USB 2.0 port.
ASI1600 Pro offers very good performance for astrophotography. Low read noise, low dark current and high dynamic range.
ASI1600 builds in a 12bit ADC, but can provide 12.5 stops dynamic range which is even better than KAF8300 due to its super low read noise.
There are four screws that seal the sensor chamber. The camera design has been extensively tested and is very stable.

Even when used in higher humidity environments, ASI1600 Pro will still works fine without dew problems.
USB 3.0 Port: Provides 5Gb bandwidth to make it possible for ASI1600 Pro to run at 14.7 fps (12bit, normal mode) or 19 fps (23bit, high speed mode) at full resolution (11.7Mega).
We recommend using a 12V/3-5A or more DC adapter for cooler power supply (2.1×5.5, center positive).
Using a battery with 9-15V is also suitable for the cooler power supply.
USB 2.0 HUB: Can connect with various accessories,  including a filter wheel, guide camera or electronic focuser, allowing you to manage your cables better. There are two short 0.5m USB2.0 cables included with the ASI1600 Pro. The hub is powered by the external power supply if you connect one.
ASI1600 Pro has a 2 stage TEC cooling system to enable very deep cooling (40°C-45°C below ambient). The cooler requires an external power supply, which is not included with the camera.
1.25″ mini Electronic Filter Wheel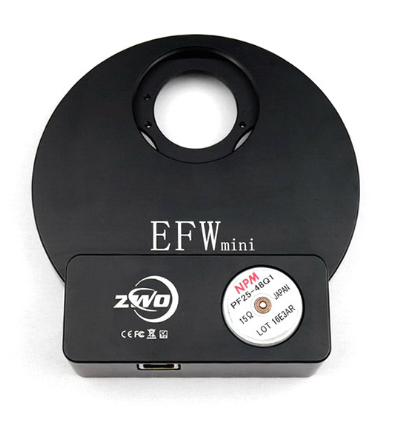 Only 300g! Smaller than your hand. Very thin design, 20mm width. The body is CNC machined from a full block of aircraft grade aluminium. 
The step motor is the heart of the EFWmini, which is made by NPM from Japan. You can trust its quality and relability.
Supports both 5 x 1.25″ filters or 5 x 31mm filters. The Electronic Filter Wheel can be rotated in both counter clockwise or clockwise direction for filter selection.
One USB cable is enough to power up the EFW, the max power consumption is around 120ma@5V, so you can connect it from the USB2.0 hub of ZWO cooled cameras.
The distance between the filter and sensor is aroucnd 10mm when you connect it to ASI1600.
1.25″ filters won't have vignetting with up to F/5 focal ratio scopes, and 31mm filters won't have vignetting up to F/2 lenses.
1.25″ new LRGB Filter Set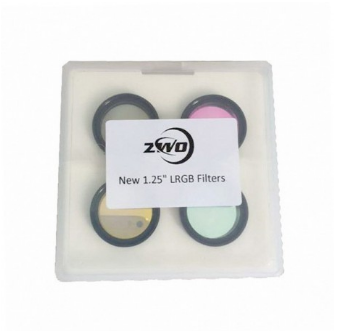 The new  ZWO LRGB Filters are designed to approximately equalise the flux of the ASI1600 mono sensor. 
Better transmission, better coating, better colour separation.
Size: 1.25″
Thickness: 5.5mm+3.5mm (thread)
Thread: M28.5x0.6
The RGB colour combination weights will be approximately 1:1:1
Fine optical polish to ensure accurate 1/4 wavefront
More than 92% transmission at passband
Infrared wavelength 700-1100nm cut-off
Precision off-band blocking
Multi-layer anti-reflection coating
Small spectral "gap" to minimize effect of light pollution
More parfocal – thickness 1.9+/-0.03 mm
Additional Information
Specifications

CAMERA TECHNICAL DETAILS

Sensor: 4/3″ CMOS
Diagonal: 21.9mm
Resolution: 16Mega Pixels 4656×3520
Pixel Size: 3.8µm
Max FPS at full resolution :23FPS
Shutter: Rolling shutter
Exposure Range: 32µs-2000s
Read Noise: 1.2e @30db gain
QE peak: 60%
Full well: 20ke
ADC:12bit
DDRIII Buffer: 256MB
Interface: USB3.0/USB2.0
Adaptor: 2″ / 1.25″ / M42X0.75
Protect window:AR window
Dimensions: 78mm Diameter
Weight: 410g
Back Focus Distance: 6.5mm
Cooling: Regulated Two Stage TEC
Delta T: 40-45 below ambient
Cooler Power consumption: 12V at 2A Max
Working Temperature: -5°C—45°C
Storage Temperature: -20°C—60°C
Working Relative Humidity: 20%—80%
Storage Relative Humidity: 20%—95%

 

SUPPORTED RESOLUTION

12Bit ADC
4656×3520 14.7fps
3840×2160 23.1fps
1920×1680 32.9fps
1280×960 47.1fps
640×480 80.4fps
320×240 124.4fps

 

10Bit ADC
4656×3520 23fps
3840×2160 36.2fps
1920×1680 57.7fps
1280×960 73.6fps
640×480 125.7fps
320×240 192.4fps

 

More resolutions are user defined