Details
The saxon 200DS Astrophotography Newtonian Telescope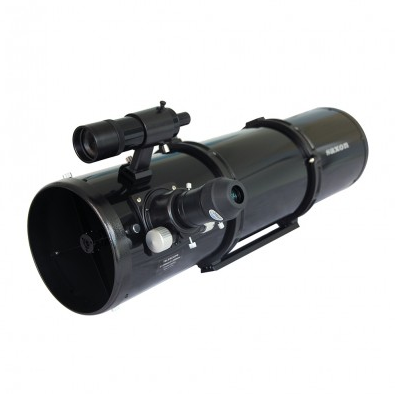 With an aperture of 200mm and focal length of 1000mm, this scope is great for prime-focus photography. Higher quality images can be achieved with the optional coma corrector.
The saxon 200DS Astrophotography Newtonian Telescope features the following:
200mm aperture
1000mm focal length (F/5.0)
2" Dual Speed 10:1 focuser
9x50 finderscope
2" LET 28mm eyepiece.
2" to 1.25" adapter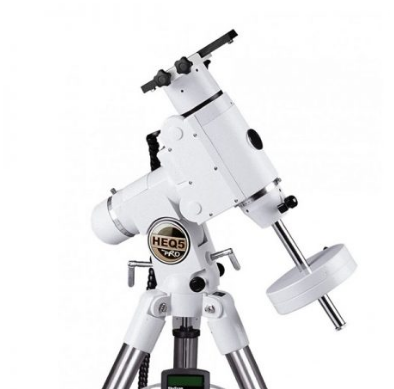 The HEQ5 PRO Go-To Mount represents the ultimate evolution of the EQ5 mount. With a mount head weight of 10 kg this professional mount is ideal to be carried anywhere in search of dark skies and solar eclipses. The integrated bubble level and the adjustable tripod legs make the levelling easy, the azimuth and altitude axis can be fine adjusted for a precise polar alignment. On top of that, the included polar scope included allows an extremely precise polar alignment that helps to drastically improve the quality of tracking, especially for astrophotography.
The exceptional SynScan Go-To system allows full control of both R.A. and Dec. axes with 9 slew speeds and 5 arcminute pointing precision, allowing you to quickly and accurately locate objects across the night sky. The Go-To system can automatically slew the telescope on command toward planets, stars, nebulae, galaxies, clusters and much more. The SynScan has 42,900 memorised celestial objects for an amazing journey in the night sky. The Deep Sky Tour function suggests a list of the most interesting deep sky objects currently visible, so even the novice astronomer can easily observe faint objects at the touch of a button.
The HEQ5 Pro Mount with Steel Tripod features and includes the following:
A user friendly Synscan hand controller
2x 5.1Kg counter weight
Wall-to-wall large accessory tray
1.75" stainless steel tripod legs
Retractable counterweight shaft
1.8 degree step angle and 64 micro steps driven
Motor resolution at 0.144arc sec (or 9.024,000 steps/rev.)
Slew speeds from 2x, 8x, 18x, 32x, 64x, 400x, 500x, 600x, and up to 3.4°/sec (800X)
Sidereal, Solar and Lunar tracking rates
One, Two and Three star alignment options
Auto guider interface for astrophotography
Guiding speed from 0.25x, 0.50x, 0.75x, or 1x
Minimal vibration for steady long-exposure astrophotography
Payload Capacity 13.7Kg
Containing over 42,900 objects with complete Messier, NGC and IC Catalogues.
Positioning accuracy up to 1 arc minute. Accuracy enhanced by software collimation error (mount mechanical error) compensation
Periodic error correction
Firmware upgradeable via internet download
PC Compatibility
Car power supply adapter included
Requires 11 to 15V DC 2A power supply (not included).
SynScan Features:
Database with 42,900+ objects
Messier, Caldwell, NGC, IC & SAO catalogues, Named Stars, Double Stars, Variable Stars, Named Stars
One, Two and Three Stars or Brightest Star Alignment
Autoguiding feature for astrophotography
Pointing Accuracy Enhancement feature (PAE)
Permanent Periodic Error Correction (PPEC)
Unknown Object Identification feature
Pointing accuracy up to 5 arc min
Tracking rates: Sidereal, Lunar, Solar
Slewing speeds: 1x, 2x, 16x, 32x, 64x, 128x, 400x, 500x, 600x, 800x (3.4°/sec)
Motor type: DC Servo Motors
Additional Information
Specifications

Optical Tube Specifications

 

| | |
| --- | --- |
| WARRANTY INFORMATION | 5-Years Limited Warranty |
| OPTICAL DESIGN | Parabolic Newtonian Reflector |
| APERTURE | 200mm |
| LOWEST PRACTICAL POWER | 29x |
| HIGHEST PRACTICAL POWER | 400x |
| FOCAL LENGTH | 1000mm |
| FOCAL RATIO | F/5.0 |
| EYEPIECES | 2" LET 28mm |
| FINDERSCOPE | 9x50 |
| OPTICAL TUBE DIMENSIONS | 240mm x 920mm |
| OPTICAL TUBE WEIGHT | 8.75Kg |
| SHIPPING DIMENSIONS | 106 x 40 x 46 cm3 |
| SHIPPING WEIGHT | 14 Kg |

 

Mount Specifications

 

| | |
| --- | --- |
| Mount Type | German Equatorial Go-To |
| Tripod Material | Steel |
| Telescope Mounting | Vixen Style |
| Payload | 10kg |
| Mount Head Weight | 10kg |
| Tripod Weight | 5kg |
| Tripod Height | 185-121cm |
| Counterweight Bar Diam. | 18mm |
| Counterweight Bar Length | 21.5cm |
| Power Supply | DC 12~16V – 3A |
| Pointing Accuracy | up to 5 arc. min. |
| Slewing Speed | up to 3.4°/sec (800X) |
| Guiding Speed | 0.25X, 0.50X, 0.75X, or 1X |
| Motors Resolution | 0.144 Arc. Sec. |
| Power Requirement | 12 to 15V – 2A |
In The Box:

saxon 200DS Astrophotography OTA
9x50 finderscope
2" LET 28mm eyepiece.
2" to 1.25" adapter
HEQ5 Pro Mount
Steel Tripod
Accessory Tray
Integrated Counterweight Bar
Polar scope (South and North Hemispheres)
SynScan Hand Controller and Cable
Counterweights
Power Supply Cord (Lighter Plug)